You can connect to Roqos VPN IN from your Mac using a free VPN client called Tunnelblick. Here are the steps to get yourself set up:
Enable VPN server. For instructions on how to enable the VPN server, please refer to this

article

.

Tap on "VPN Client Setup" option at the bottom of the VPN Server view. You will see instructions on how to configure your VPN client.

Tap on "Send VPN Client Configuration" at the bottom of the page to email yourself the VPN configuration file you need to connect to your Roqos Core.

Go to

https://tunnelblick.net/downloads.html

and download the latest stable release of TunnelBlick.

Install TunnelBlick on your Mac. After the installation, you will see the TunnelBlick icon on the menu bar at the top.

Go to your email inbox, and open the email with subject line "Instructions for Roqos VPN Client". Download the file attached to this email to your computer. It will be named "<yourname>.roqos.me.ovpn".

Open the downloaded file and it will configure the Roqos VPN connection within TunnelBlick.
At this point, your VPN connection is ready for use. Whenever you wish to establish a VPN connection, follow the steps below. Please note that you should not be connected to your Roqos Core while attempting to connect.
From the menu bar at the top of your computer screen, click on TunnelBlick icon and the menu should reveal the new Roqos connection. Click on "Connect <yourname>.roqos.me".

You will be prompted to enter a username and password. Enter your Roqos account credentials and click on Connect.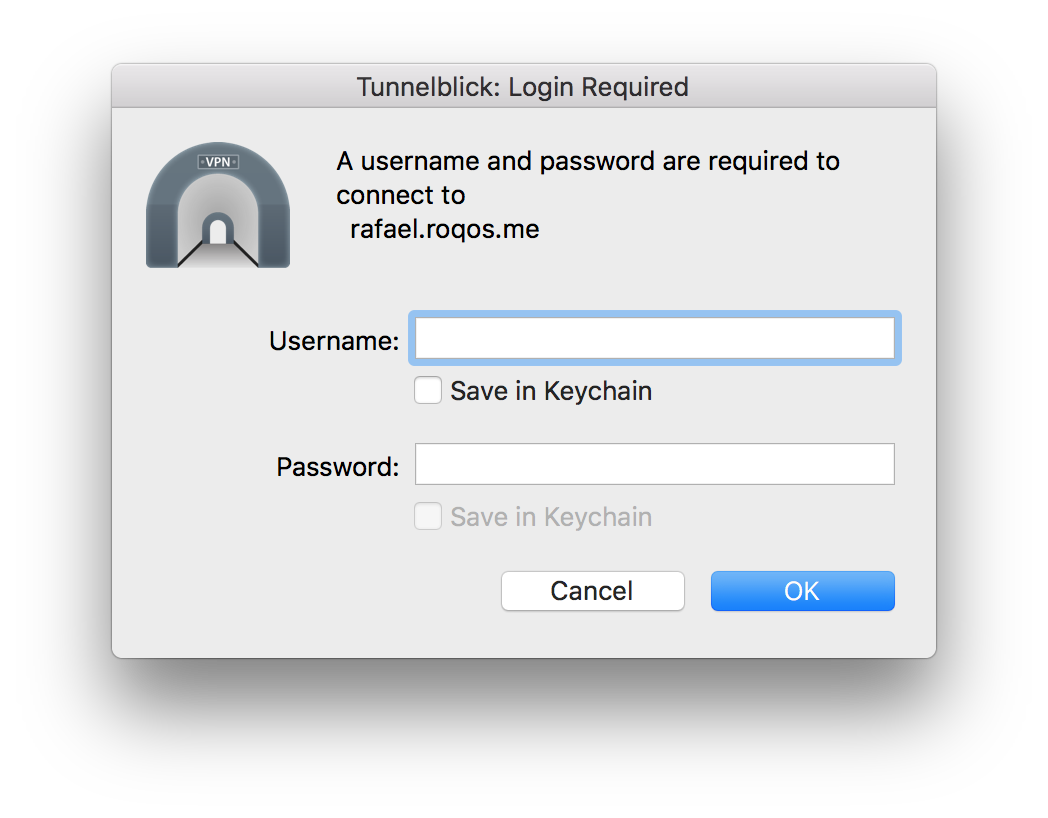 You are all set. At this point, you should have an active VPN connection and all your internet traffic will be routed securely through your Roqos Core at home until you disconnect your VPN connection.